ABS
Technical Specifications
ABS (Acrylonitrile Butadiene Styrene) is a low-cost engineering plastic that bridges the gap between standard plastics and high-performance engineering thermoplastics. Its versatility comes from its three monomers: acrylonitrile enhances heat stability and chemical resistance, butadiene provides impact strength and toughness, and styrene allows for good formability and rigidity. ABS is easy to machine and fabricate and is widely used for machining preproduction prototypes because it has excellent dimensional stability and is easy to paint and glue. Natural (beige) ABS is FDA-compliant for use in food-processing applications.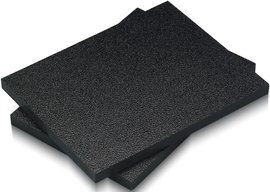 Key Properties:
Excellent impact strength
Good fabricating and machining properties
Low cost
Excellent aesthetic properties
Good chemical resistance
Standard Shapes and Forms:
Sheet: .060" – 6" thick
Rod: .250" – 6" diameter
Other Forms: Thin gauge sheet – see ABS under Glazing and Construction Materials
The range of sizes and shapes are grade specific, order minimums may apply. Please contact us for more information.