Acetal (Delrin®)
Technical Specifications
Acetal provides high strength and stiffness while offering enhanced dimensional stability and ease of machining. A semi-crystalline material, Acetal also has a low coefficient of friction and good wear properties—especially in wet environments. Because it absorbs little moisture, Acetal demonstrates excellent stability for close-tolerance machined parts. In high-moisture or submerged applications, Acetal bearings can outperform nylon 4 to 1. This material is resistant to a wide range of chemicals, including many solvents. Acetal is available in a broad range of grades with properties addressing specific needs.
Copolymer Grades
Acetal Copolymer
(Acetron® GP, Tecaform™) Manufactured from resin specifically formulated for wear applications, Acetal copolymer offers excellent mechanical and bearing properties plus dimensional stability, stiffness, and low water absorption. It is resistant to hydrocarbons, ketones, esters, and hot water. Standard colors are natural and black. Natural color is FDA, USDA, NSF, Canada AG and 3A-Dairy compliant. Applications include bushings, rollers, and pulleys.

NEW Tecaform AH ID
Tecaform AH ID is the first commercially available thermoplastic that can be detected by the standard metal detection equipment typically used in quality inspection. This advancement in technology will reduce the risk of product contamination, and help minimize the possibility of significant financial loss. Tecaform AH ID can be used in a variety of food industry applications requiring good strength and toughness, dimensional stability, wear resistance and the ability to operate in a wet environment with little moisture absorption.

Other available copolymer grades: SD-Static Dissipative
Homopolymer Grades
Delrin®
Delrin® is a family of Acetal Homopolymer whose properties include low water absorption and superior creep resistance, tensile strength, and fatigue endurance. It is resistant to hydrocarbons, solvents, and neutral chemicals and is recommended for bushings, fittings, impellers, and other mechanical and electrical applications.

Delrin® AF 100 Blend
Delrin® AF 100 Blend is a unique thermoplastic material for use in moving parts in which low friction and long wear are important. It is a combination of 13% PTFE fibers uniformly dispersed in Delrin® Acetal resin. This combination retains 90% of the strength that is inherent in unfilled Delrin® yet offers better wear characteristics. All PTFE modified grades are brown.

Delrin® AF 100
Delrin® AF 100 is an Acetal resin that contains 20%Teflon® TFE fluorocarbon fibers. The resulting material is nearly as strong, tough, and dimensionally stable as Delrin® but with excellent lubrication characteristics. Applications include antifriction parts, rollers, and gears.

Acetal Homopolymer with PTFE Powder
(Acetron® HPV, Tecaform™ HPV 13) is similar to Delrin® AF 100 that instead of Teflon® fibers it contains 13%Teflon® powder. Because powder is dispersed throughout the material, excellent machinability is achieved. This product also offers higher tensile strength compared with fiber-reinforced material.

Other available homopolymer grades: Delrin® 570 - (20% glass filled), Delrin® 500CL –(chemically lubricated)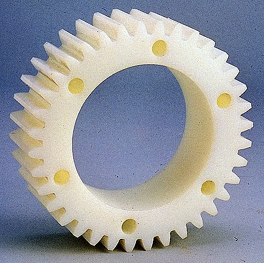 Key Properties:
High mechanical strength and rigidity

Machinability

Resistance to chemicals

Low moisture absorption

Natural Lubricity
Standard Shapes and Forms:
Sheet: .031" - 8" thick

Rod: .187" - 20" diameter

Strip: .010" - .125" thick - .250" - 24" wide

Tubular Bar: .250" - 11.84" OD / .125" - 7.87" ID

Profiles: Hex rod

The range of sizes and shapes are grade specific, order minimums may apply. Please contact us for more information.