Cast Acrylic
Technical Specifications
Cast Acrylic is made from virgin acrylic monomer and offers superior optical clarity and light transmission. It is not affected by sunlight, it resists aging, and it remains stable across a wide range of temperature, moisture, and exposure conditions. It will not crack, craze, or corrode. Because of its optical superiority over molded or extruded acrylic products, Cast Acrylic is preferred for some industrial and commercial applications. For example, it is often used for displays where optimum visibility is required.
Cast Acrylic can be machined or cemented and, with standard equipment, will fabricate like wood, metal, or other plastics. It weighs half as much as comparable glass and yet has good shatter-resistance and durability.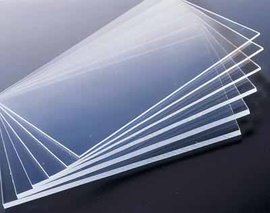 Key Properties:
​

Superior optical clarity and light transmission

​Ease of bonding and machining
Good shatter-resistance and durability
Not affected by sunlight
High tensile strength
Standard Shapes and Forms:
Sheet: .125" - 5" thick
Rod: .250" - 12" diameter
Tube: 2.00" - 96" OD / 1.5" - 94" ID
Other Forms: Sheet - see Acrylic under Glazing and Construction Materials
The range of sizes and shapes are grade specific, order minimums may apply. Please contact us for more information.