Celazole® / PBI (Polybenzimidazole)
PBI (polybenzimidazole) Celazole® is the highest performance engineering thermoplastic available. It offers the highest heat resistance and mechanical property retention over 400° F of any unfilled plastic. It has better wear resistance and load carrying capabilities at extreme temperatures than any other reinforced or unreinforced engineering plastic.
As an unreinforced material, Celazole® is very "clean" in terms of ionic impurity, and it does not outgas (except water). These properties make Celazole® highly attractive to semiconductor manufacturers for vacuum chamber applications. Celazole® has excellent ultrasonic transparency, making it an ideal choice for parts such as probe-tip lenses in ultrasonic measuring equipment.
Celazole® also is an excellent thermal insulator. Other plastics in melt do not stick to Celazole®. These characteristics make Celazole® ideal for contact seals and insulator bushings in plastic production and molding equipment.
Technical Notes
Celazole® PBI is extremely hard and can be challenging to fabricate. Polycrystalline diamond tools are recommended when fabricating production quantities. Celazole® tends to be notch sensitive. All corners should be radiused (0.040" min.) and edges chamfered to maximize part toughness. High tolerance fabricated components should be stored in sealed containers (usually polybags with desiccant) to avoid dimensional changes due to moisture absorption. Components rapidly exposed to temperatures above 400°F (205°C) should be "dried" prior to use or kept dry to avoid deformation from thermal shock.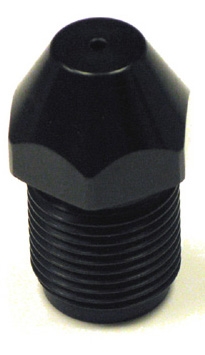 Key Properties:
Extremely high heat resistance

High purity

Excellent ultrasonic transparency

Excellent thermal insulator

Extremely high mechanical-property retention
Standard Shapes and Forms:
Sheet: .500" – 1.50" thick

Rod: .375" – 3.875" diameter

Tubular Bar: 1.625" – 10.75" OD / .750" – 7.00" ID

The range of sizes and shapes are grade specific, please contact us for more information.