CPVC
Technical Specifications:
Although it is derived from PVC and thus shares some of that material's characteristics, CPVC is a distinct polymer. It is a high-temperature-grade chlorinated polyvinyl chloride that is resistant to corrosion, heat, and chemicals. CPVC can be easily machined with standard woodworking tools and can be fiberglass-backed, hot-air welded with rod, cemented (solvent bonded), riveted, and threaded. This material is useful for a wide range of applications, from chemical processing to metal finishing.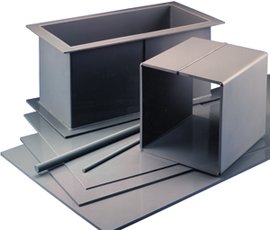 Key Properties:
Good impact properties
Resistant to corrosion, heat, and chemicals
Inherent flame resistivity
Easily machined
Retains physical properties at high temperatures
Standard Shapes and Forms:
Sheet: .030" – 2" thick
Rod: .250" – 7" diameter
The range of sizes and shapes are grade specific, please contact us for more information.