Fluorosint®
Technical Specifications
Fluorosint® is the most dimensionally stable PTFE-based product. The unique properties of Fluorosint® are the result of a proprietary process in which synthetically manufactured mica is chemically linked to PTFE. This bonding results in properties not normally possible with reinforced PTFE. For example, Fluorosint® offers an excellent combination of low frictional properties and dimensional stability. The two grades of Fluorosint®, 500 and 207, are FDA approved. Typical applications include labyrinth seals and shrouds, dishwasher arm bearings, transmission and power-steering seal rings, and valve seats. Fluorosint® is produced exclusively by Quadrant Engineering Plastic Products Inc.
Grades
Fluorosint® 500
Fluorosint® 500 has nine times greater resistance to deformation under load than unfilled PTFE. Its coefficient of linear thermal expansion comes close to the expansion rate of aluminum and is 1/5 that of PTFE. Because of these properties, fit and clearance problems often can be eliminated. Fluorosint® 500 is 1/3 harder than PTFE, has better wear characteristics and maintains low frictional properties. Fluorosint® 500 also is nonabrasive to most mating materials. A typical application is abradable seals in turbomachinery where reliable performance in hostile chemical environments is needed. This grade also provides improved performance and service life when used for transmission and power-steering seal rings.
Fluorosint® 207
Fluorosint® 207 offers unmatched dimensional stability, excellent creep resistance and is white in color, uniquely positioning it to serve FDA-regulated applications. It is nonpermeable in steam and complies with FDA specification 21 CFR 175.300. Its relative wear rate is 1/20 the rate of PTFE in temperatures below 300° F, making it an excellent choice for aggressive service bearings and bushings. Dishwasher arm bearings made from Fluorosint® 207 typically offer a 20-year service life, while valve seats made from the material excel in steamy and hot-air environments where nonpermeability, excellent dimensional stability and a low wear rate are important.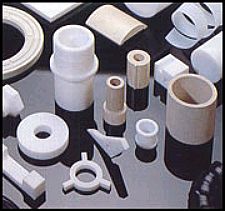 Key Properties:
Chemical resistance comparable to PTFE
Performs well under continuous-use temperatures up to 500° F
Higher load-carrying capability than PTFE
Nine times greater resistance to deformation under load than PTFE
Lower coefficient of thermal expansion than PTFE
Standard Shapes and Forms:
Sheet: .25" – 3" thick
Rod: .50" – 8.75" diameter
The range of sizes and shapes are grade specific, please contact us for more information.