Nylon
Technical Specifications
Nylon is one of the most versatile and widely used thermoplastic materials. Its physical properties and reasonable price combine to make it a popular choice for numerous applications. It can replace steel, brass, bronze, aluminum, wood, and rubber, while reducing noise, using less lubrication, and increasing gear life. Using standard metalworking equipment, nylon can easily be machined and fabricated into precision parts. This material also meets military/association specifications and may be FDA/USDA/ NSF/3A dairy-approved (grade dependent).
Extruded Nylon Grades
(Nylon 101) Of all the unmodified nylons, Nylon 6/6 is the strongest, most rigid and has one of the highest melting points. It is commonly specified for screw machined, electrical insulators and food contact parts. It is stocked in both natural and black. Other colors are available on a custom basis. Nylon 6/6 natural is FDA, USDA, NSF, and 3A-Dairy compliant.
Nylon 6/6 MD (MoS2) filled
(Nylatron® GS, Tecamid™ MD) Molybdenum disulphide (MoS2) filled nylon offering improved strength and rigidity. With a lower coefficient of linear thermal expansion than Nylon 101, Nylon 6/6 MD parts maintain better fit and clearances, and have less tendency to seize as bearings.
30% Glass Reinforced (Tecamid™ 6/6 GF30) is for applications requiring higher compressive strength and rigidity.
Other extruded nylon grades
6/6 ST - increased impact resistance
Cast Nylon Grades
(Nylarton® MC 907, VektonTM 6PA: Natural, Blue & Black) Unmodified type 6 nylon offering the highest strength and hardness of the nylon 6 grades. MC 907 natural is FDA, USDA and 3A-Dairy compliant. It is off-white and primarily used for food contact parts.
(Nylatron® MC 901, VektonTM 6XAU) Heat stabilized nylon offering long-term thermal stability to 260°F. It is blue in color and used in a variety of bearing and structural applications such as wheels, gears, and custom parts.
Nylon Type 6 MD (MoS2) filled
(Nylatron® GSM, VektonTM 6PAM) Nylon Type 6 MD contains finely divided particles of molybdenum disulphide (MoS2) to enhance its load bearing capabilities while maintaining the impact resistance inherent to nylon. It is the most commonly used grade for gears, sheaves, sprockets and custom parts. It is grey-black in color.
The first cast nylon to combine both molybdenum disulphide (MoS2) and oil for the load capacity of Nylatron® GSM nylon, plus improved frictional characteristics. It excels in higher pressures, and at low speeds-up to 40 fpm. It offers 20% lower coefficient of friction, 50% greater limiting PV, and a lower "k" factor than Nylatron® GSM, and the lowest "slip-stick" of any nylon product making it ideal for slide pads, thrust washers and trunion bearings. Nylatron® GSM Blue should be considered for any oil-filled nylon application. It is dark blue in color.
Best bearing and wear nylon product available today. Proprietary type 6 nylon formulation produced using Quadrant's Monocast® process. Solid lubricant additives impart self-lubricating, high pressure/velocity and superior wear resistance characteristics. Nylatron® NSM was developed specifically for demanding applications where larger size parts are required. It is ideal for bearings, gears and wear pads. In wear applications, Nylatron® NSM lasts up to 10 times longer than standard Type 6 nylon.
Nylatron® LFG / Nycast Nyloil® FG
Nylatron® LFG and Nycast Nyloil® FG are oil-filled, food grade cast nylons. They add FDA compliance for applications where food contact is possible. Food packing and process equipment users can now benefit from the wear resistance, toughness and low coefficient of friction of these nylon materials. They are available in a variety of colors such as red, purple, blue, natural and Nyloil® natural.
(Nylatron® LIG, VektonTM 6PAL) This grade of nylon material combines the toughness of cast PAG with an oil-based lubricant that is encapsulated within the nylon matrix. It increases the load bearing performance of the material when compared to unfilled nylons and reduces the coefficient of friction. It is an ideal material for industrial application in conveying and processing industries.
This ultra-high performance bearing grade of PAG provides wear resistance near the levels of Nylatron® NSM with superior load bearing capability and an industrial first - near zero level of "stick-slip." This elimination of chatter provides and extraordinary amount of control for high-precision application.
Is a specially formulated grade of cast nylon that offers very low moisture absorption while exhibiting superior wear resistance and outstanding mechanical properties. Ideal in marine and amusement park applications.
Is a cast nylon-metal composite that offers the performance advantages of both materials while exhibiting characteristics that cannot be obtained from either material by itself. The nylon-metal interface stands up to the toughest engineering applications, and the nylon component ensures a quiet-running part, good vibration dampening, good shock absorption, light weight, and long wear. Nymetal also can reduce, if not eliminate, the need for lubrication.
This material is ideal for power transmission applications, but it is also available in a food grade that is FDA-, USDA-, and 3A dairy-compliant.
6PAG - graphite powder-filled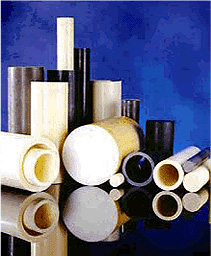 Key Properties:
Abrasion resistance
Low coefficient of friction
Impact resistance
Electrical insulation
corrosion and chemical resistance
Standard Shapes and Forms:
Sheet: .030" - 4" thick extruded .250" - 6" thick cast
Rod: .187" - 8" diameter extruded
1" - 20" diameter cast
Tubular Bar: .50" - 40" OD / .375" - 39" ID
Profiles: Hex Rod, Extruded Wear Profiles
The range of sizes and shapes are grade specific, order minimums may apply. Please contact us for more information.