PCTFE / Kel-F® / Neoflon®
Technical Specifications
PCTFE (polychlorotrifluoroethylene), sometimes referred to as Kel-F® (a discontinued product from 3M) or Neoflon® (a product of Daikin Industries), combines physical and mechanical properties, nonflammability, chemical resistance, near-zero moisture absorption and excellent electrical properties not found in any other thermoplastic fluoropolymer that also performs well in a temperature range of -400° F to 400° F. PCTFE also has high compressive strength, an exceptional resistance to cold flow and is optically transparent. Because PCTFE is a highly fluorinated resin, it is nonflammable and resists most corrosive chemicals. It also maintains its outstanding electrical-insulating capability through thermal cycling and in high-humidity environments. The product's high compressive strength and dimensional stability make it a good choice for structural material, while its very low outgassing rate and permeability make PCTFE a good choice for instrumentation, laboratory, aerospace and flight applications. Other common applications include cryogenics, valves, seals, and film for food and pharmaceutical packaging.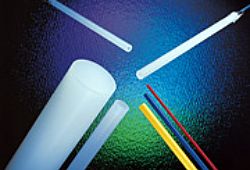 Key Properties:
Near-zero moisture absorption
Excellent performance under a wide temperature range
Resists most corrosive chemicals
Excellent electrical-insulating properties
Extremely low outgassing
Standard Shapes and Forms:
Sheet: .125" – 1.25" thick
Rod: .125" – 3" diameter
The range of sizes and shapes are grade specific, please contact us for more information.