Phenolics and High-Pressure Laminates
Technical Specifications:
Phenolics and high-pressure laminates such as Micarta®, Texolite®, and Bakelite® are hard, dense materials made by applying heat and pressure to a series of layered materials, such as paper or fabric, and then impregnating them with a synthetic resin. These materials are extremely versatile because of their unusual combination of properties. All grades are lightweight (about half that of aluminum), structurally strong, and moisture-resistant. High-pressure laminates do not soften appreciably under reapplication of heat, and their high dielectric strength and strength in thin sections make them easy to punch and shear. Because no one grade can suit all applications, a variety of grades are available.
Grades
Current Spec: Mil-I-24768/11 Type PBG
(LP 509, MIL P 3115, Type PBE)
Grade XX is a hard, paper-based, reinforced laminate with a phenolic resin binder. It is moisture-resistant and has good machinability and mechanical properties. It is appropriate for most electrical applications.
Current Spec: Mil-I-24768/10 Type PBE
(LP 509, MIL 3115, Type PBE)
Grade XXX has similar mechanical properties as Grade XX but is considerably better electrically because of its high resin content. This material is ideal for use at radio frequencies and under very humid conditions.
Current Spec: Mil-I-24768/16 Type FBM
(LP 509, MIL P 15035, Type FBM)
Grade C is a strong cotton-reinforced laminate (weighing more than 4 ounces per square yard) with high-impact strength. It is easily machined and outstanding for a wide variety of mechanical applications.
Current Spec: Mil-I-24768/14 Type FBG
(LP 509, MIL P 15035, Type FBG)
Similar to Grade C in weight and thread count, Grade CE has greater moisture resistance. It is tough and resilient, easily machined, and ideal for a number of electrical applications where mechanical strength is needed.
Current Spec: Mil-I-24768/15
(LP 509, MIL P 15035, Type FBI)
Grade L is a fine-weave cotton cloth reinforced with a phenolic binder. Weighing not more than 4 ounces per square yard, Grade L is recommended for fine punchings or threading or for close-tolerance machining.
Current Spec: Mil-I-24768/13 Type FBE
(LP 509, MIL P 15035, Type FBE)
Grade LE is similar to Grade L but with better moisture resistance and increased dimensional stability. It is also acid-resistant. Grade LE is recommended for fabricated parts that need smooth edges and good mechanical strength.
Current Spec: Mil-I-24768/9 Type NPG
(LP-509, MIL P 15047, Type NPG)
Grade N-1 is a staple-fiber nylon-fabric impregnated with a phenolic resin. It has good electrical properties and mechanical toughness, and it is very humidity-resistant. Grade N-1 is excellent for high-voltage electrical insulators requiring low dielectric loss, high insulation resistance, and fungus resistance.
Current Spec: Mil-I-24768/1 Type GME
(LP 509, MIL P 15037, Type GMG)
Grade G-9 (also known as Grade G-5) is a continuous-filament, woven-glass fabric reinforced with melamine resin. It has excellent strength under wet conditions and is ideal for applications requiring arc and flame resistance. It retains its shape and size and works well in wet environments.
Current Spec: Mil-I-24768/17 Type GSC
(LP 509, MIL P 997, Type GSG)
Grade G-7 is a continuous glass fabric laminated with silicone resin. It is unequalled for high heat and arc resistance applications and can withstand humid conditions at temperatures of 460° F or higher.
Current Spec G-10 Mil-I-24768/2 Type GEE
Current Spec FR-4 Mil-I-24768/27 Type GEE-F
(LP 509, MIL P 18177, Type GEE)
Grades G-10 and FR-4 are continuous-filament, woven-glass cloth materials, permeated with an epoxy resin. These materials have good machining characteristics and good flexural, bond, and impact strength. They also exhibit excellent electrical properties over a wide variety of temperatures and have low moisture-absorption and heat-distortion characteristics.
Current Spec: Mil-I-24768/3 Type GEB
(LP 509, MIL P 18177, Type GEB)
Grade G-11 is similar to Grade G-10 but is self-extinguishing and exhibits a high mechanical strength up to 300° F.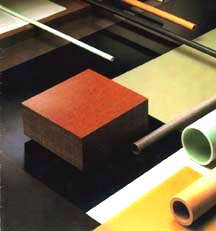 Key Properties:
Excellent dielectric strength
Easy to punch and shear
High impact and tensile strength
Extremely versatile
Hihg dimensional stability
Standard Shapes and Forms:
Sheet: .010" – 4" thick
Rod: .062" – 6" (made from sheet) & .187" – 4." (molded rod)
Tubular Bar: .094" – 48" ID
Wall thickness: .031" - 5"
Other Forms: GPO polyester laminated sheet, Copper clad sheet, Vulcanized fiber sheet, Glass polyester structural shpaes
Color: Phenolic Grades: Natural (tan/brown) and black
The range of sizes and shapes are grade specific, order minimums may apply. Please contact us for more information.