Polycarbonate Machine Grade
Technical Specifications
Machine-Grade Polycarbonate is a transparent, amorphous thermoplastic with excellent dimensional stability. It exhibits superior impact strength and rigidity over a wide range of service temperatures and is often used for structural applications where transparency and impact strength are essential—such as lenses, manifolds, site glasses and machine guards. Machine-Grade Polycarbonate suits a wide variety of electrical applications as well because of its high dielectric strength, low moisture absorption, excellent flammability rating and resistance to acid solutions. Machine-Grade polycarbonate is manufactured from FDA approved resin.
Grades and Colors
Natural and black

20% Glass fiber reinforced (natural)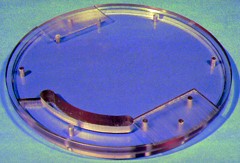 Key Properties:
Resistance to acid solutions
Econmical thermal performance
Transparency
Good dielectric properties
Standard Shapes and Forms:
Sheet: .250" - 4" thick
Rod: .125" - 12" diameter
Tube: .375" - 8" OD / .250" - 7.75" ID
Other Forms: Film and profiles, Sheet - see Polycarbonate under Glazing and Construction Materials
The range of sizes and shapes are grade specific, order minimums may apply. Please contact us for more information.