Polycarbonate / Makrolon® / Lexan®
Polycarbonate (Makrolon® / Lexan®) is a transparent thermoplastic sheet material used where impact resistance, flame retardency, good dielectric properties and optical clarity are priorities. Polycarbonate thermoforms well, is easy to paint and bonds well using solvents and adhesives. It also has exceptionally high impact strength over a wide temperature range. Many grades of polycarbonate are available with each providing specific properties for a variety of applications. It can even be FDA approved for food-contact and medical applications. Additional applications are protective shields, architectural glazing, indoor and outdoor signs, skylights, shelves, fixtures, aerospace and mass transit interior surfaces, automobiles and product displays.
Grades and Colors
Makrolon® AR
Makrolon® AR (abrasion-resistant) polycarbonate sheet offers glasslike surface hardness and the impact strength of polycarbonate. With enhanced UV resistance to protect against yellowing and hazing, Makrolon® AR provides a longer service life for high-profile architectural glazing, and performs extremely well for other flat applications such as view windows and machine guards in harsh chemical environments. It is also useful for school, hospital and bus shelter glazing.
Download the Makrolon AR Material Data Sheet.pdf
Makrolon®
FD Makrolon® FD (food grade) polycarbonate sheet is a clear, non-UV-stabilized sheet which complies with FDA and NSF standard 51 requirements. Close gauge tolerance control combined with high impact strength and heat resistance make Makrolon® FD ideally suited for demanding applications in medical equipment as well as food processing environments. Some of those applications are bulk food bins, candy molds, sneeze guards, commercial serving bowls, hospital trays, bassinets, incubators and medical device storage containers.
Download the Makrolon FD Material Data Sheet.pdf
Makrolon® FI
Makrolon® FI (flame-inhibiting) polycarbonate sheet is formulated for electrical and electronic device applications. Makrolon® FI polycarbonate sheets offer V-0 ratings under the UL 94 test criteria in thicknesses from .060", and is UV-stabilized in gauges greater than 1/8". Typical applications include transparent interior aircraft components, switchgear covers, thermoformed equipment housings and electrical devices. Also available is Makrolon® LF (Low Flame) which is not certified for use on aircrafts.
Download the Makrolon FI Material Data Sheet.pdf
Makrolon® GP
Makrolon® GP (general purpose) is a clear, polished surface, UV-stabilized polycarbonate for use in sign and glazing applications. Offering high performance and economy, this sheet meets or exceeds the physical properties of any product in its class. Typical applications include impact-resistant windows, signage, machine guards, barriers and partitions.
Download the Makrolon GP Material Data Sheet.pdf
Makrolon® MG
Makrolon® MG (machine grade) polycarbonate engineering plate is an amorphous thermoplastic material that offers extremely high impact strength, high modulus of elasticity, outstanding dimensional stability and good mechanical and electrical properties. See our Polycarbonate Machine Grade page for more information.
Makrolon® OP
Makrolon® OP (optical grade) polycarbonate sheet is a clear, polished surface, UV stabilized sheet for use in premium visual applications. Offering high performance coupled with excellent optical clarity, Makrolon® OP polycarbonate sheet meets or exceeds the physical properties of any product in its class. Typical applications include aftermarket automotive parts, military vehicle glazing, laminated security glazing and other demanding applications requiring low distortion with optimal visual quality.
Download the Makrolon OP Material Data Sheet.pdf
Makrolon® SL
Makrolon® SL (SunLife) polycarbonate sheet is an enhanced UV-resistant sheet with exceptional weatherability and superior impact strength. Available in clear as well as a variety of colors, SL is the perfect choice for extended service life and resistance to color shift. Makrolon® SL polycarbonate sheet and reel is easily thermoformed, fabricated and decorated. Typical applications include skylights, barrel vaults, covered walkways and general glazing.
Download the Makrolon SL Material Data Sheet.pdf
Makrolon® Hygard
Makrolon® Hygard, the ultimate security product, was developed to meet the need for a higher performing security glazing material. Makrolon® Hygard offers multiple levels of protection with certified containment glazing (CG) and bullet-resistant (BR) material. They both feature hard coated surfaces for exceptional resistance to abrasion and UV degradation. Designed for security installations such as detention and correctional centers, government facilities and banks, Makrolon® Hygard is being used increasingly for employee protection in 24-hour gas stations and convenience stores as well as other cash transaction areas.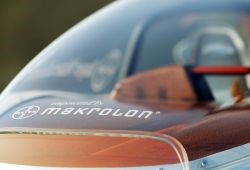 Key Properties:
Exceptional Impact Strength
Easily Fabricated
Outstanding Clarity
Flame Retardancy
Wide Temperature Range
Standard Shapes and Forms:
Sheet: .030 - 4" thick
Other Forms: Rod, Tube and Film - see Polycarbonate under Engineering Plastics
The range of sizes and shapes are grade specific, please contact us for more informaiton.