PTFE
Technical Specifications
PTFE is a soft, nontoxic fluoropolymer (also known as Teflon®, which is a registered trademark of DuPont) with an extremely low coefficient of friction, meaning that few materials stick to it, and most that do stick can be peeled or rubbed off. PTFE also has outstanding chemical and weathering resistance. PTFE is insoluble in most organics and has excellent electrical properties. It remains stable at both cryogenic and elevated temperatures (from -400° F up to 500° F), though its mechanical properties are low compared to other engineering plastics. The mechanical, electrical and thermal properties of PTFE can be improved by adding fillers such as glass fiber, carbon, graphite, bronze and molybdenum disulfide (MoS2). Typical applications include seals, bearings, bushings, coil separators, terminals, and solid pipes and fittings.
Grades and Colors
Virgin Grade PTFE
Virgin grade PTFE is made from virgin PTFE resin. This grade comes in sheets, rods and tubes. Typical applications include seals, gaskets or structural components where temperature or chemical resistance is essential. Used especially for application requiring high purity, non-contamination and exceptional dielectric properties. Virgin, natural, unfilled formulations comply with one or more of the FDA's guidelines for direct food contact at room temperature.
Mechanical Grade PTFE
Mechanical Grade PTFE is made from reprocessed PTFE resin. This grade has extremely low friction and high service temperatures. Mechanical Grade PTFE is frequently specified for high performance bearings and bushings, particularly in applications that require resistance to corrosive chemicals.
Available Fills
PTFE mechanical properties can be improved by adding fillers such as Glass Fiber, Carbon, Graphite, Calcium, Ceramic, Bronze and Moly-Disulphide.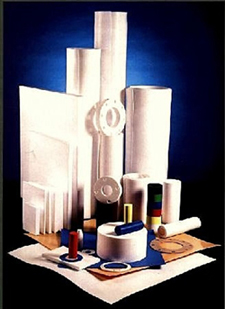 Key Properties:
Low coefficient of friction
High resistance to chemical agents and solvents
Excellent electrical properties
Stable over a wide range of temperatures
Nontoxic
Standard Shapes and Forms:
Sheet – Molded: .125" – 6" thick

Skived: .001" - .250" thick

Rod – Molded: 3.75" – 12" diameter

Extruded: .125" – 6" diameter

Tube – Molded: 1.50" – 12" OD / .75" – 11" ID

Extruded: .250" – 3" OD / .060" – 2.50" ID
The range of sizes and shapes are grade specific, please contact us for more information.