PTFE Glass Fabrics
Technical Specifications
PTFE glass fabrics consist of a woven fiberglass that has been coated with a PTFE resin. They are designed for a wide range of applications and come in several grades to meet specific performance requirements. These fabrics have a nonstick surface, perform well under temperatures ranging from -100° F to 500° F. They also are chemically inert, have high tensile strength and have outstanding electrical properties. Typical applications include the heat-sealing or cutting of plastic bags or film, the manufacturing of dress shirts and blouses in the sizing process (to seal necks, collars and cuffs without damaging the fabric), thermal insulation, conveyor belts, gaskets, seals, bearing liners, and nonstick surfaces for paints, adhesives and food products. A variety of industries use PTFE glass fabrics, including packaging, aerospace, electronics and petroleum processing.
Grades
Standard Grade PTFE Fabric
Standard grade PTFE fabric has a smooth surface and excellent nonstick properties. It serves the widest range of applications among the PTFE fabric grades. Standard grade contains an excellent balance of substrate weave, strength, finish and coating weight. Typical applications include release sheets on heat-sealing machines and laminate presses; nonstick surfaces for paints, adhesives and food products; thermal insulation for high-temperature and chemical-resistant environments; gaskets, seals and bearings for chemicals, oils and gases; and covers for hot plates, platens, chutes and hoppers.
Premium Grade PTFE Fabric
Premium grade PTFE fabric is more durable than the standard grade. It has an extra-heavy coating of PTFE resin and a super-smooth, nonporous surface suitable for advanced applications such as release sheets for cooking and baking, laminate separator sheets, specialized heat-sealing, and demanding, nonstick applications. Other uses include motor and generator insulation, conveyor belts, gaskets, seals, and bearing liners.
Mechanical Grade PTFE Fabric
Mechanical grade PTFE fabric has a medium coating of PTFE designed for resistance to high temperatures and chemicals. It also has excellent dimensional stability. Typical applications include chemical-resistant laboratory aprons and protective curtains such as those for bottle washers, food packaging and acid protection, and other low-load mechanical applications.
Economy Grade PTFE Fabric
Economy grade PTFE fabric has a light coating of PTFE and is designed for large-volume, high-performance applications. The cost-efficiency of economy grade PTFE fabric does not compromise the quality of the product. Typical applications include leaders for processing paper, plastics, metallic foils and cloth; separator sheets for processing uncured rubber; and the manufacture of abrasive wheels.
Porous Grade PTFE Fabric
Porous grade PTFE fabric is designed for airflow, outgassing and resin bleed-through. It uses open-mesh glass fabric with a coating of PTFE that ranges from breathing to 0.25- inch mesh. This grade also has excellent resistance to chemicals. Typical uses include filtration, release sheets for fabric coating, the curing of rubber and plastic foams, and applications that require draining or drying.
Other PTFE Fabric Grades:
Crease and Tear Resistance: Tac-Black (Anti-Static)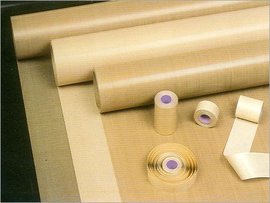 Key Properties:
Nonstick surface
Excellent range of temperature resistance
Chemically inert
High tensile strength
Outstanding electrical properties
Standard Shapes and Forms:
Sheet: .125" - 6" thick (Molded)
.001" - .250" thick (Skived)
Rod: 3.75" - 12" diameter (Molded)
.125" - 6" diameter (Extruded)
Tubular Bar: 1.50" - 12" OD / .75" - 11" ID (Molded)
.250" - 3" OD / .060" - .250 ID (Extruded)
Other Forms: Pipe and Fittings, Flexible Tubing
The range of sizes and shapes are grade specific, please contact us for more information.