PVDF (Kynar® / Tecaflon™ / Symalit® / Kytec®)
Technical Specifications:
PVDF (polyvinylidene fluoride) is a highly stable and pure fluoropolymer offering a unique balance of properties. This material has outstanding resistance to most mineral and organic acids, aliphatic and aromatic hydrocarbons, alcohols, halogenated solvents, and oxidizing environments. PVDF provides unique chemical resistance at elevated temperatures (300° F), particularly in the presence of chlorine, fluorine, or bromine. This material also has good weathering properties and excellent resistance to aging. It is available in a wide variety of forms, is nontoxic, and meets FDA and USDA regulations for direct food contact.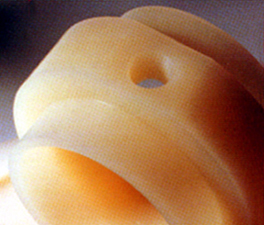 Key Properties:
Excellent chemical resistance at high temperatures
Good thermal stability
High dielectric and piezoelectric constants
Excellent UV-resistance
Nontoxic and FDA/USDA-compliant
Standard Shapes and Forms:
Sheet: .030" – 4" thick
Rod: .250" – 12" diameter
The range of sizes and shapes are grade specific, please contact us for more information.
Colors
Natural (beige)