PEEK (Polyetheretherketone)
Technical Specifications
PEEK (polyetheretherketone) is a semicrystalline, high-temperature (up to 500° F) engineering thermoplastic that is excellent for applications where thermal, chemical, and combustion properties (UL flammability rating of V-0) are critical to performance. At the same time, PEEK emits little smoke or toxic gas when exposed to flame. This material is tough, strong, and rigid and has superior creep resistance. It also resists radiation and a wide range of solvents. With its resistance to hydrolysis, PEEK can withstand boiling water and superheated steam used with autoclave and sterilization equipment at temperatures higher than 482° F. PEEK resins are available in unreinforced, 30% glass-fiber reinforced, 30% carbon-fiber reinforced, and HPV-reinforced grades. Typical applications include the automotive, marine, nuclear, oil-well, electronics, medical and aerospace industries.
Grades
PEEK, Unfilled
Unfilled PEEK is an unreinforced general-purpose grade that offers steam and wear resistance. It provides the greatest elongation and toughness of all PEEK grades. It is ideal for instrument components where aesthetics is a concern. It also is well suited for seal components where ductility and inertness are important.
PEEK, 30% Glass-Fiber Reinforced
The addition of glass fiber greatly reduces the expansion rate and increases the flexural modulus of PEEK. This grade is especially good for structural applications that require greater strength, stiffness, or stability—especially at temperatures higher than 300º F.
PEEK, 30% Carbon-Fiber Reinforced
The addition of carbon fibers enhances the compressive strength and stiffness of PEEK, while dramatically lowering its expansion rate. It offers optimum wear-resistance and load-carrying capability in a PEEK-based product. This grade provides greater thermal conductivity than unreinforced PEEK, allowing for increased heat dissipation from bearing surfaces. The result is improved bearing life and capability.
PEEK, Bearing grade
Carbon fiber reinforced with graphite and PTFE lubricants, bearing grade PEEK offers the lowest coefficient of friction and the best machinability of all PEEK grades. An excellent combination of low friction, low wear, high LPV, low mating part wear and easy machining, make it ideal for agressive service bearings.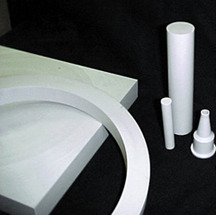 Key Properties:
Continuous service temperature of 500º F
Low smoke and toxic-gas emissions
Very low moisture absorption
Excellent fatigue, stress-crack, hydrolysis and chemical reistance
Superior creep resistance
Standard Shapes and Forms:
Sheet: .250" – 4" thick
Rod: .250" – 6" diameter
Tubular Bar: 2.00" - 10.125" OD x 1.25" - 8.25" ID
The range of sizes nd shapes are grade specific, please contact us for more information.