UHMW Polyethylene
Technical Specifications
UHMW (Ultra High Molecular Weight) Polyethylene is 1/8 the weight of mild steel but is high in tensile strength and as simple to machine as wood. Also unlike steel, UHMW Polyethylene reduces noise in many applications. It is an inexpensive alternative to metals, ceramics, and wood because it is self-lubricating, long-wearing, and resistant to shattering, abrasion, and corrosion. UHMW Polyethylene is well suited for applications that demand durability and low friction. It causes no undesirable taste, smell, or discoloration, and it can be cleaned with water, steam, detergents, or disinfectants. UHMW Polyethylene will withstand intermittent temperatures of up to 212° F, while at the same time being ideal for use in freezing lines.
Grades and Colors
Virgin: Natural (white) and black
Reprocessed: Black and green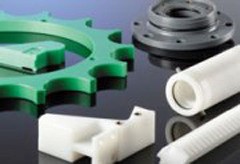 Key Properties:
Resistant to impact, abrasion, corrosion, moisture, and chemicals
High tensile strength
Self-lubricating
Long-wearing
Lightweight
Standard Shapes and Forms:
Sheet: .060" - 8" thick
Rod: .025" - 10" diameter
Tubular Bar: .875" - 9.50" OD / .250" - 8.25" ID
Other Forms: Wear strip, Tivar®, Extruded wear profiles - U-Channel, Angle, etc.
The range of sizes and shapes are grade specific, order minimums may apply. Please contact us for more information.